Thanksgiving Dining Near Arlington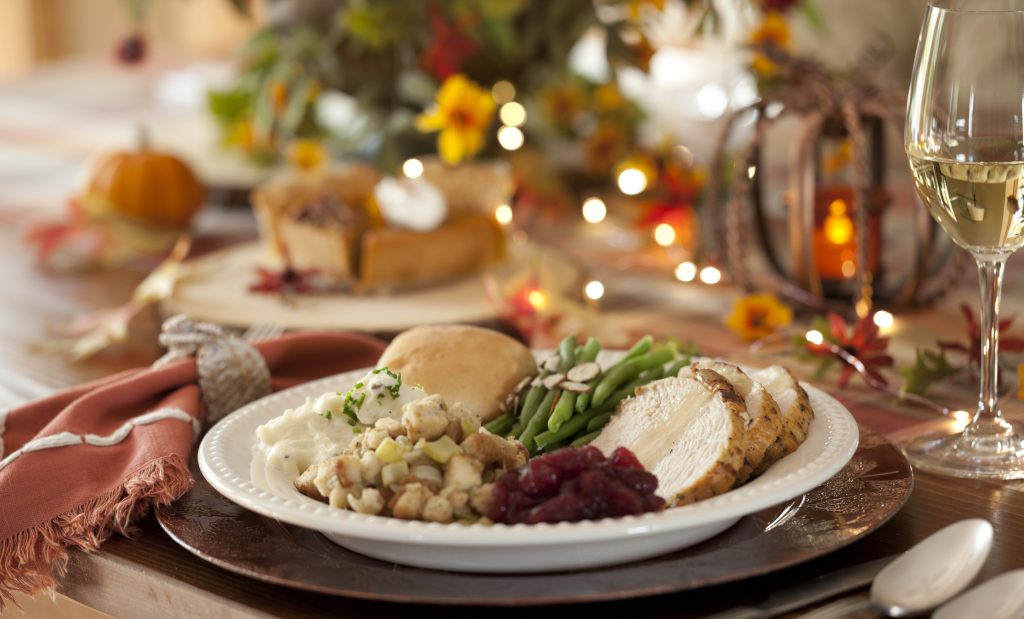 Thanksgiving meals will be served on November 28th!
506 N Center St, Arlington – 4 mins
Celebrate Thanksgiving with a delicious meal at The Sandford House. Their menu features: Split Pea Soup, Fried Osso Bucco Tortellini, Red Romaine & Bibb Harvest Salad, Roasted Turkey Dinner, Herbed Roasted Prime Rib, Beef Wellington, Chilean Sa Bass, Pecan Pie, Peach Cobbler and Pumpkin Cheesecake.
Price: $59 per person
Time: 11am-3pm
2121 McKinney Ave, Dallas – 20 mins
Dive into Thanksgiving with a three course meal at Fearings. First course options include: Roasted Butternut Squash Soup with Pheasant Confit, Poached Colossal Prawns with Horseradish/Tomato Cocktail Sauce, Pan Seared Nantucket Bay Scallops with Crispy Queso Squash Blossom and Lockhart Quail with Sweet Potato/ Sage Stuffing wrapped in Iowa Prosciutto. Main courses include: Tangerine Glazed Turkey with Tortilla Dressing, Blue Crab Hollandaise on Oven Roasted Nova Scotia Halibut, Oak Grilled Beef Tenderloin with Denton Oyster Mushroom/ Marsala Sauce and Lamb Osso Buco with Orange Gremolata on Pecorino Polenta. Dessert options include: Spiced Pumpkin Pie with Whipped Orelys Ganache, Brown Sugar Custard Creme Puff with Candied Pecans and French Silk Chocolate Mousse Torte with Fleur De Sel Cookie.
Price: $125 per person
Time: All Day
2400 W State Hwy 114, Grapevine – 22 mins
Visit Perry's Steakhouse and Grille for a special Thanksgiving dinner. Their menu features: Butternut Squash Soup, Honey Crisp Apple Salad, Roast Turkey Breast with Pan Gravy, Mashed Potatoes, Green Bean Almondine, Sausage and Sage Cornbread Stuffing, Cranberry Relish and Pumpkin Spiced Cheesecake.
Price: Adults $45, Kids $15
Time: 11am-9pm
800 Main St, Fort Worth – 20 mins
Make Thanksgiving dinner easy when you dine at The Capital Grille. The Thanksgiving special includes: Slow-Roasted Turkey with Brioche Stuffing, Grench Green Beans with Marcona Almonds, Cranberry-Pear Chutney, Mashed Potatoes and Pumpkin Cheesecake. The full dinner menu is also available for those who want more to choose from. Grille hours are Mon-Wed 11am-10pm, Thursday 11am-9pm, Friday 11am-11pm, Saturday 4pm-11pm and Sunday 4pm-9pm. Reservations are recommended.
Price: Adults $43, Kids $15
Time: Serving All Day
4023 Oak Lawn Ave, Dallas – 25 mins
Join in the Holiday fun with a traditional Thanksgiving dinner and dessert. They offer Carved Slow-Roasted Turkey with Gravy, Brioche Sage Stuffing, Cranberry Chutney, Hand-Whipped Potatoes, Baby French Green Beans with Sun-Dried Tomatoes, Roasted Butternut Squash and Pumpkin Pie Tart with Whipped Cream and Praline Sauce. The full menu will also be available at this time.
Price: Adults $43, Kids $15
Time: 11am-8pm
8687 N Central Expy, Dallas – 24 mins
Indulge in a traditional Thanksgiving meal everyone knows and loves. The menu includes: Roasted Turkey, Pan Gravy, Yukon Mashed Potatoes, Herb Stuffing, Green Beans, Mashed Butternut Squash, Housemade Cranberry Relish and a Mini Pumpkin Pie Indulgence. Restaurant hours are Mon-Thur 11am-10pm, Fri-Sat 11am-11pm and Sunday 11am-9pm.
Price: Adults $29.95, Kids $14
Time: Serving All Day