Property Info

The 817 Hotel in Arlington Texas looks over the AT&T Stadium, home of the Dallas Cowboys (also known as Jerry's World) and is a stone's throw away from the Texas Rangers, making it the perfect location for visiting sports fans.
Opened in 2018 the 817 features bright modern décor and open space at an affordable price, making it an ideal hub for your visit to Dallas. Our staff are knowledgeable of the local area and can guide you to attractions such as the iconic Texas 6 Flags and Hurricane Harbor Waterpark.
With an abundance of local attractions and activities, we're set up to host families with children of all ages and have a large, accessible dining room and lounge space. We'll make sure your stay is relaxing and comfortable – if you have any special requirements or requests we're here to help!
We also cater for couples seeking a weekend escape. You'll be welcomed with a complimentary drink at our bar and once settled, can head for an evening in the Texas Entertainment District, which includes the newly completed Texas Live! complex.
If you're seeking serenity after all the excitement, you'll be pleased to know we have the shores of Joe Pool Lake on our doorstep – an idyllic pitstop for some well-earned rest before continuing your urban adventure.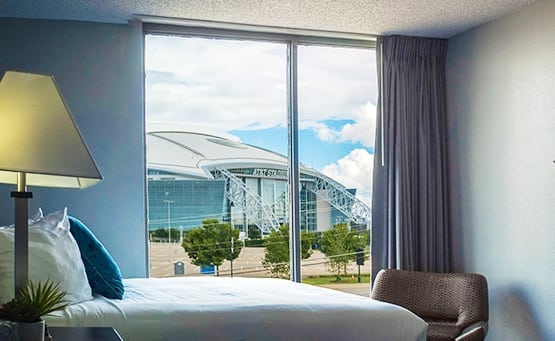 Hotel Amenities
FREE breakfast
FREE wine & beer during managers reception
Industry's fastest Wi-Fi – FREE
Complimentary parking
After taking in the full Arlington experience, you can kick back and relax in our spacious rooms, which offer high-speed internet access, flat-screen TV's and super-comfy beds – looks like a recipe for room service! The only thing calling you to leave will be our delicious buffet breakfast, which is always great and fully complimentary.